We have had countless guests in Godiwala Bungalow but the memory of one stands out above the rest. Ritwik Ghatak
Sometime in the early '70s a Bengali gentleman landed up unannounced at home. He looked like he had seen better days. His entire demeanour was one of defeat, someone at the end of his tether. His clothes looked as though they hadn't been washed in a long time and he also appeared to be a bit tipsy. It was obvious from the manner Ma greeted him that they had known each other for a long time. She addressed him affectionately as Bhoba and her dismay at seeing him in this condition was palpable.
I was dying to know who he was but had to wait till he left to find out. Ma said he was a filmmaker called Ritwik Ghatak and he had worked with Baba many years ago in New Theatres. But that was not the only connection because our families had known each other all the way back from their days in Dhaka, before they came to Calcutta in search of better prospects. I digested this information but his name didn't ring any bells. And then he invited us to see a special show of his film Ajantrik in the Films Division auditorium.
I was so overwhelmed by the film that I wept at the end and even at a young age sensed that Ritwik Ghatak was a tour de force and a master of cinema. I was not surprised to hear many years later that he was more popular than Satyajit Ray in France.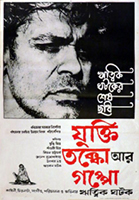 Soon after his first visit he came over again, accompanied by two young acolytes. He was definitely drunk this time. He slurred as he explained that he had not been able to make a film in years but he wanted to make a fresh start. So he was planning to write a script, which if approved, would get him a loan from NFDC. Ma was delighted by the news and promptly invited him to stay with us while he wrote the script. Bhoba Kaka happily accepted her offer and landed up soon after with bag and baggage, and the two acolytes in tow. Ma realised they would be staying too. She arranged for their stay next door in our cottage, so that he could work in peace and also be out of her hair, thereby killing two birds with one stone.
Little did she realise that she had taken on one of the biggest challenges in her life. Though she knew Bhoba Kaka drank she didn't know he was a complete alcoholic. Soon after, the houseboy who went to clean his room came back in disgust and reported that there was a foul stink and there were empty bottles lying around. Ma pulled up Bhoba Kaka who heard her out meekly and said he would stop. But of course he didn't. Things seemed to get worse, so Ma questioned the acolytes and discovered Bhoba Kaka had made no progress on the script.
She demanded to see Bhoba Kaka immediately. He landed up with an abject and apprehensive expression on his face. I have rarely seen Ma more angry. She said he should remember he had a family to maintain, a wife and two young children. This was his one chance to redeem himself and he was throwing it all away for alcohol. She told him that he was being extremely irresponsible and she wanted him to promise her that he would not drink again until he had completed his script. She warned him that she would not allow him to leave till he had finished it. To my surprise, Bhoba Kaka literally fell at her feet and wept, and promised to honour her word. And he did.
And that was how the script of Jukti, Takko Aar Goppo (Ideas, Arguments and Stories) was finally completed.
Bhoba Kaka was a changed man at the end of his stay. He looked well kempt, well fed and purposeful. He touched Ma's feet when he left, telling her that he considered her like his mother. Quite a compliment! In a happy ending NFDC approved the script, sanctioned the loan and the film got made. I wish I could end by saying 'And they lived happily ever after' but Bhoba Kaka's life was like a Greek tragedy and I suspect he died an unhappy man.
I wish he had lived to enjoy the glory of his global status, acknowledged as one of the all time greats of Indian cinema.
Ritwik Ghatak (Nov 04, 1925 – Feb 06, 1976)

Jukti Takko Aar Gappo was Ghatak's last film.
It won the National Film Award for Best Story.

The film is autobiographical.
Ghatak also dons the role of Nilkantha. 
He plays a disillusioned intellectual who drinks like a lord.
In Hinduism, Nilkantha is Lord Shiva.
The lord drinks poison to save the universe.