"Nostalgia is meant to give rise to an emotional connection between artist and consumer. The art itself being the canvas on which this connection can be heightened and explored. Sometimes, an artist will use traditional motifs and themes, as opposed to reinterpreted characters and stories, to communicate a sense of ease and familiarity."
-Mike Burdge, Editor-in-chief /Founder, Story Screen.
"The great art of films does not consist of descriptive movement of face and body but in the movements of thought and soul transmitted in a kind of intense isolation."
-Louise Brooks, Actress
In a film landscape dominated by grim and sensational narratives, Aachar and Co emerges as a purported oasis, offering a respite from mindless machismo. It presents a colourful kaleidoscopic canvas, and cajoles audiences to join in on a much-romanticised reminiscence trip, while vividly recreating the quintessential character of the olden days cosmopolitan Bangalore. Writer-director Sindhu Srinivasa Murthy joins the scroll of women directors of Kannada filmdom. However, the manner in which she attempts to invoke the old-world charm of the 1960s-70s period becomes her Achilles' heel, and she ends up transforming her directorial debut, in which she also dons the lead role, into a derisive and frivolous production that falls way short of being a thoughtful exploration of the past.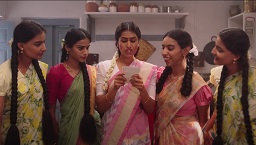 The film tells the tale of domineering and disciplinarian no-nonsense, hide bound patriarch Madhusudhan Aachar, played by Ashok, who never really gets into the skin and psyche of his character. While the narrative ostensibly revolves around him, it inevitably pivots toward Suma, a 10th-grade graduate whose singular focus on matrimony is portrayed with a comedic undertone. Unfortunately, the film's attempt to extract humor from familial dynamics lacks the necessary emotional depth to actively involve the audience in its proceedings. Every frame attempt to tease out as much mindless mirth in the goings-on between the panoply of characters of the large family that constitutes Aachar and Co. Their quirks, quibbles and idiosyncrasies, notwithstanding, the facetious film is rendered into a discomfiting and disquiet affair to indulgently wallow in.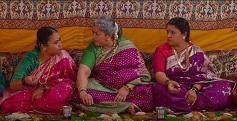 Instead of an enterprising ensemble that dissects and deliberates on the age gone by, and providing a reflective mirror on how traditions and social etiquettes had a deleterious effect on the young ones in discipline-driven patriarchal households of the past, with men and women strenuously striving to confirm to traditional expectations, the filmmaker rather lampoons these very aspects to keep audiences' rib tickling non-stop at the awkwardness of Aachar household inhabitant. And the characters are reduced to caricatures devoid of naturalism, and come across as cardboard cut outs.
Attempting to weave a tapestry of nostalgia, humor, and social commentary, the film falters primarily on the scripting level, and struggles to transcend the boundaries of its comfort zone. The visuals and music, though, add embellishments to this otherwise trite and tiresome tale of an era buried in the sands of time and the mind's recess. Laudable too is the director's attempt to address pertinent social issues such as domestic violence, patriarchal hegemony, and women's empowerment, and institutively bring into play the political changes taking place across the state and national landscapes of that period.