Chicks don't do chick flicks. They do whatever flick interests them, whatever subjects.

– Betty Thomas, actress, director & producer.
Chick flick is not a term used to praise a movie. Nobody says 'it's a great chick flick.' It's a way of being derisive.

– Carolyn Ann 'Callie' Khouri screenwriter, producer, & director.
Feting fifty years of its founding, Bengaluru's Suchitra Film Society as part of its year-long celebrations has brought out a book, Films through Women's Eyes – A Study of 17 women directors of India.
A wonderful and worthy initiative indeed by a society that has traversed a chequered trail, which today stands at the crossroads of transition to ensure it stays relevant in these disruptive times where multifarious modes of film consumption is the new normal.
The book, running to nearly 275 pages, is timely in terms of emerging times and public discourse lately with regard to women's empowerment, individual freedom, representation and gender parity, on the global amphitheatre. It befittingly toasts through the pages of the timely tome the achievements and accomplishments of women directors through their films mirroring the strides and struggles of women in society.
Thereby, celebrating and saluting the differentiated perspectives women were bringing in an otherwise predominantly men dominated entertainment industry, braving the Sisyphean struggle they undergo in doing so.
True, it is an acknowledged fact that women are undervalued, under-appreciated, and untapped within the entertainment (film, TV, what have you) industry. However, they provide a leg up and shine like lodestars, proving that it doesn't matter what gender a director is and that individual, inherent and intuitive talent is what always prevails.
That said and acknowledged, coming to the book per se, one has to woefully express a sense of personal disappointment in the women directors sought to be represented and the tableau of treatise commissioned about the chosen ones.
The majority of the essays turn out to be more of fan boy musings on their favourite directors than insightful, incisive, and more importantly, critical perspectives on them.
Not that those featured were any less deserving, given that they have carved a niche of their own in the highly competitive and fickle Indian entertainment industry and won accolades for themselves and the nation for the humungous, multifarious constituents they addressed.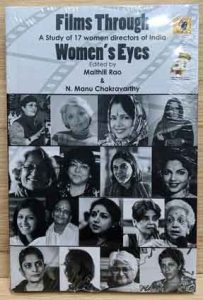 The purpose of the volume supposedly is to "meet the criterion of becoming a reference text for students of film studies in universities." Unfortunately, one has to disagree with this presupposition. The majority of the articles are nothing more than eulogistic, effusive pieces simply singing paeans about the women directors featured.
Rather than objectively assessing their contribution and eclectic engagement with cinema and the true representation of the women they sought to portray, the rumination of many are more of a pulpy, celebratory exercise than illuminative writing.
No singular attempt has been made to objectively assess the works of these women directors or explore in such a fashion to make it meaningful and insightful to prospective students aspiring to take film making as a career choice. Furthermore, no attempt has been made to show how these women directors have sought to provide a feminine perspective to their protagonists in their works and narrative concern.
The preface states that "many important filmmakers had to be excluded from such a volume in view of the framework envisaged." If it that is so, why a book at all of such poor nature?
As to what this "framework" that resulted in the exclusion of many others is curiously missing even in the editors' note. An anomaly, if one may submit could have been easily avoided, rather leaving to needless conjectures by interested readers pickled by the title to try it.
The holistic writings of Mr Saibal Chatterjee on Aparna Sen, Mr Babu Subramanian on Prema Karanth, Saumya Baijal on Nandita Das, Shantanu Ray Chaudhary's exploration of Sai Paranjpye's works, apart, Bitopan Borborah's analysis of Dr Santwana Bordoloi's two films could have been better, so too Ashok Rane's piece on Vijaya Mehta.
I express serious reservations about co-editor Mr N Manu Chakravarthy's elaborate and longish treatise, which, for an average, aspiring student of cinema, turns out to be rather academic and digressive, that as the author himself posits is personal "tribute" than an accessible understanding of late Sumitra Bhave's rich repository of works.
Mr Manu Chakravarthy's discursive discourse, to look at films as "literary text", rambles: "I have tried to put all my energy into my attempt only to underline Sumitra Bhave's thematic concerns, ethical positions, aesthetic choices and understanding," an an exercise flaunting author's literary flourishes, than be easily accessible analysis say like that of Mr Saibal Chatterjee or Mr Babu Subramanian or even handful others.
In fact, as Marathi actor Mohan Agashe, during discussion to Mr Manu Chakravarthy's "scholarly erudition" states "I'm still trying to find out the simple language to communicate with the masses."
One only wishes a similar concern had guided Professor Manu Chakravarthy rather than the elaborate digressive dissertation with which he has sought to dissect the core concerns of Sumitra Bhave's films and her engagement with cinema.
It turns out more of an exercise in futility especially given the readers / audiences in mind the book has sought to address and hope would be beacon for their furtherance with film studies and understanding of films.
While Mr Saibal Chatterjee with felicity of seasoned critic encapsulates the various trajectories of Aparna Sen's narrative concerns with pithy precision, it is Mr Babu Subramanian's workmanlike essay on Prema Karanth that deservingly serves the intended objective of the book as also the very purpose for which Suchitra Film Society was formed.
Hand holding the uninitiated audience-reader-learner on how to approach and engage with a film and understand the dynamics of visual narrative and read meanings into the mise-en-scene so constructed by the director to tell her tale, Mr Babu Subramanian has chiseled out a fine piece of writing.
Despite his lack of facility with the Kannada language, his simple, unassuming essay, speaks volumes of his innate understanding of the art of cinema aesthetics and engagement with films luminously bringing forth Prema Karanth's only available film – Phaniamma's cinematic qualities in terms of messaging, craft, idiom, narrative structure and core concerns supplanting the same with necessary footnotes in the end.
None of the other authors say or write anything new or different that has not already been known and written about or offer no new perspectives into the director they are discussing about.
Instead of dissecting the films in reasonable fashion, these authors have gone about eulogising about how the directors strove to rise above the prevalent "male dominated" system quite antithetical to the very purpose of a book of this nature.
Ratnottama Sengupta's essay on Aruna Raje is more about Aruna, the person, working through the male hierarchy, rather than her films, their merits and fault-lines. Similarly Karthik Keramulu's ruminations on Bhanumathi, speaks more of her sartorial characteristics such as her famous "bottu" and acting, than directorial worthiness.
Be it Shoma A Chatterjee's tribute of Bijaya Jena, which comes across more as a school essay than learned discourse on her directorial merit or Kaveree Bazmee's essays on Deepa Mehta and Mira Nair, which sketch out career graph of directors colourful lives, and controversies rather than scrutinise their films for their worth.
Likewise book's co-editor Maithili Rao's essay is just a pen sketch of flamboyant Zoya Akthar. So too Roopa Barua's life sketch of late Kalpana Lajmi, Uma Vangal's portrait of Revathi, or for journalist Kavitha Shanmugham's on Sudha Kongara, critic CS Venkiteswaran's short matter of piece on Suma Josson.
In sum, despite Suchitra Film Society's laudable idea to ignite curiosity about Indian women directors, as a way of crowning its own 50 years of existence, Films Through Women's Eyes falls short of being a must read, must buy, promising  publication.