Here once was a colossus cultural phenomenon nonpareil — SPB — a peerless performer par excellence whose magical, mellow voice saw legions of listeners drawn like bees to a honeycomb, as if a Pied Piper has cast a spell upon them to transport them to an Elysian world.
Like many of his ilk in his time, he has left us with a memory of his humungous achievements in this mortal life—4,000 plus songs, spanning over a chequered career of 50 sing-sing prodigious years. Covid may have consumed the great SPB at the ripe, still-active age of 74, but his rich, luminous legacy shall live forever. His life he led less ordinary. Led by his self-belief motto: I love my life. If possible, I do not want to die. I have a passion for life.
Indeed, if only the Almighty Creator was as gracious and benevolent enough, the rotund, ever infectiously smiling super singer would still be busy recording, hopping from one studio to another, or performing live; bringing sunshine into the lives of people, up, close and personal. But then, trust one to be unable to defy one's own date with destiny. It is, and was, not to be. Virtually battling for over a month with the deathly Corona, the songster who soothed many a soul with his rapturous renditions finally gave in, leaving the music world, both in India and the world, in deep mourning.
So, Sripathi Panditaradhyula Balasubrahmayam, known more so as simply SPB, or Balu, faded away into the horizon, after living a fulfilling, fulsome life nestling in the hearts every human being by the songs he sang, by the peace and quietude they brought into the lives of ordinary mortals.
A musician, playback singer, television anchor, music director, actor, dubbing artist, film producer, and a roly-poly powerhouse, perfectionist songster, he was not just phenomenally versatile. [highlight background="#f79126″ color="#ffffff"]Tiaraed with a Padma Shri and a Padma Bhushan as crown jewels of an illustrious and fulfilling career, he was an iconic institution all by himself. [/highlight]
SPB was a polyglot who had a flair and felicity for effortlessly rendering songs in 16 different languages. In addition to singing in the four major South Indian languages—Tamil, Telugu, Kannada, and Malayalam—SPB was also a virtuoso in Hindi, a terrain that even the likes of the exalted Kamal Haasan has not been able to conquer.
And [highlight background="#f79126″ color="#ffffff"]records were like second nature for SPB, be it the Guinness Book of World Records for his 40,000 songs, or the coveted six National Film Awards for Best Male Playback Singer, or the recording of 21 songs in Kannada for composer Upendra Kumar from 9 am to 9 pm, or the 19 songs in Tamil and 16 songs in Hindi that he recorded on a single day.[/highlight]
Of course, his dad being SP Sambamurthy, a Harikatha artist, it was only to be expected that this lad from a Telugu Brahmin family from Nellore, the erstwhile Madras Presidency, would take the trail less trodden and not the traditional ones of an engineer or a doctor or such other academic led careers.
Despite enrolling himself in an engineering college, he gave it up, stricken by typhoid as well as total disinterest. The call of music was strong in the impressionable boy, so he pursued the study of musical notations, and very soon, while still a youth, he began his long and successful journey of winning music awards, one after the other.
The decisive turn came in 1964 when he bagged the top prize at a music competition for amateurs as a leader of a light music troupe with an upstart/undiscovered Ilaiyaraaja as his chief guitar and harmonium accompanist. At his debut audition, SPB rendered Nilave Ennidam Nerungadhe, a song of his peer, a contemporary and equally-erudite crooner, PB Srinivas, who was more in the mould of Manna Dey and Mohammad Rafi.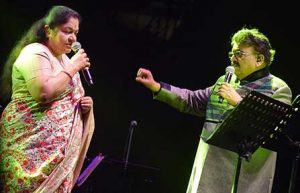 Brilliant with his boggling range of eclectic expressions and enthralling cadence that music directors expected of him and sought him for, he lit up the musical world, sticking true to the destined philosophy "I planned to be an engineer. Then music turned the course of my life. I realised not to plan and let things play out for me." That was SPB.
SPB made his debut with Sri Sri Sri Maryada Ramanna (1966), a Telugu film. Eight days after that first recording, he sang for a Kannada film. However, it was the 1980 Telugu film Sankarabharanam and his classical Carnatic rendition of the songs that pitchforked him into the big league. Despite not being classically trained, SPB's impeccable aesthetic music sense and renditions fetched him his first of four National Film Awards for Best Male Playback Singer.
For the Carnatic-oriented songs in Saagara Sangamam (1983) and Rudraveena (1988), Ilaiyaraaja and him won the National Film Awards for Best Music Director and Best Male Playback Singer, respectively. SPB was a super success in the cinema of Hindi too. He received a National Award for Best Playback Singer for Ek Duuje Ke Liye.
In 1989, he became the singing voice of the young-as-a-yuppie upstart Salman Khanin Maine Pyar Kiya. In 1994, his rendition for Didi Tera Devar Deewana in Hum Aapke Hain Koun..! turned him into the Dil Deewana for the audiences of the North of the Vindhayas, firmly cementing his place in Mumbai as well as the recess of India's cow belt. Indeed, [highlight background="#f79126″ color="#ffffff"]SPB became the offscreen voice of the bad boy of Bollywood in the same manner as his equally ersatz senior Kishore Kumar had earlier become Rajesh Khanna's singing alter ego.[/highlight]
AR Rahman's score in Mani Ratnam's Roja ensured SPB would be sought after if his alto voice was required to niftily render the soothing lyrics in all its nuances and notes.
As if playback singing was not enough proof of his virtuousness, you had the legend lending his voice to Kamal Haasan, Rajinikanth, Vishnuvardhan, Salman Khan, K Bhagyaraj, Mohan, Anil Kapoor, Girish Karnad, Gemini Ganesan, Arjun Sarja, Nagesh, Karthik, and Raghuvaran in as many languages as they acted in, proving that dubbing too came as easily as singing a song in the studio or in front of a packed auditoriums the world over.
A prodigious, youthful and zestful singer blessed with that rare artistry in several languages, his evergreen songs that embellished the Indian movie marquee for half a century has left a treasure trove of glistening gems, such as Aayiram Nilavae Vaa for MGR in Adimaippenn, Iyarkai Ennum Ilaya Kanni for Gemini Ganesan in Shanti Nilayam, Tere Mere Beech Mein Kaisa Ye Bandhan  for Kamal Haasan in Ek Duuje Ke Liye,  Pehla Pyar Hai for Salman Khan in Hum Aaapke Hain Kaun,  and Dorakuna Ituyanti Seva and Saamaja Varagamana for JV Somayajulu in Shankarabharanam.
With a mirthful, mischievous laugh here, and an angst-ridden sigh there, playful, and pert, [highlight background="#f79126″ color="#ffffff"]SPB has lent a uniqueness to his repertoire,  rendering songs that are an inseparable part of the common man's everyday lives.[/highlight]
The words of the Bard of Avon William Shakespeare, "All the world's a stage… And one man in his time plays many parts" ring so true for SPB. The velvety voice with its multifarious mellifluousness that brought meaning to our existence will never be stilled. Like many of the other greats before him whose works still resonate and reside with us, quite many of the innumerable songs of this gentle genius genie have become a part of our collective conscience and shall for a very long time becalm and be a balm to soothe the void.
---
Header pic: The then-Union Minister Shri M. Venkaiah Naidu presents the centenary award to SPB at IFFI-2016. Also seen is Shri Laxmikant Parsekar & Shri Mukesh Khanna, CM of Goa, & Chairman of the Children's Film Society of India, respectively, in 2016. Source: PIB