When I was completing the edit of my film 'Remembering Bimal Roy' on my father, my editor asked me who would do the final sound design. This was the first time I heard the term sound design and realised that my documentary would need one. Shajith
By sheer serendipity a dear friend Meena Pillai mentioned that Shajith Koyeri, a friend of hers, had just won a National Award for Sound Design. This could not be a coincidence. I told Meena to fix an appointment for me to meet him, which she did instantly. When I was shown in to the mixing room to meet Shajith I gave an involuntary start as I set eyes on him for the first time. Shajith was seated on a chair which seemed so large in comparison to him that it seemed to swallow him up in its recesses. That was because he was tiny in size and painfully thin, and [highlight background="#f79126″ color="#ffffff"]severe arthritis had turned his fingers into claws. I couldn't imagine how he could handle the sound controls with those bent claws. And yet this man had won a National Ward for his skills.[/highlight] His achievement was all the more miraculous because he did not have any formal training in sound design. Whatever he had learned was by observation and practice.
I personally witnessed the magic of those bent fingers when we sat together for the sound design of my film. His keen intelligence and sensitive hearing enabled him to maximize the potential of the existing soundtrack and better it when required. The seamless and near flawless final soundtrack created by Shajith far surpassed my expectations. And his sunny disposition made it a pleasure to work with him.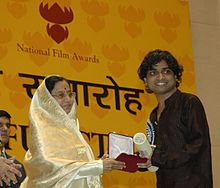 Shajith's story is a fascinating example of how destiny can play a pivotal role in one's life.
Consider this. Shajith grew up in a small town called Punnol in Kerala. His father owned a ration shop and his mother taught Hindi in a government school. Shajith was a normal school going kid who loved football. But at age thirteen he was detected with juvenile arthritis. The local doctor gave him wrong medication for two years at the end of which Shajith's condition had deteriorated alarmingly. The parents finally took him to a senior doctor in an adjoining town, and that medication helped to stop the deterioration. But the damage had already been done. He began to suffer from severe depression. But he finally took up a job in a local library and he became a voracious reader. His mind opened up and he became curious to know more about politics, world affairs, history and space. And he was fascinated by unexplained phenomena like the Bermuda triangle. His depression lifted and he was in a better space.
All through this time his friend Satish who lived next door was a great support and would spend time with him to cheer him up. Satish then went to the Film and Television Institute to study sound design and finally opened his own studio in Bombay. But it took Shajith several years of suffering and hardship before Satish rescued him from wasting away in a small town. His one day visit to Satish turned into 7 days. Shajith would spend the day in Satish's studio. [highlight background="#f79126″ color="#ffffff"]He was fascinated by the process of mixing sound. Shajith told me that from childhood natural sounds had fascinated him… for example the difference in sound when the same person walked on sand and then on the road. He had already developed a very keen ear for sound.[/highlight] And his interest in Hindi cinema, unusual for a boy from a small town in Kerala, was because his mother taught Hindi and would take him to see Hindi films. He confessed that he had been a great fan of Amir Khan, so he would buy old copies of Filmfare from a second hand bookshop to know more about him and Bollywood. Obviously life was preparing him for a career in shaping the sound of Hindi cinema.
It has been a long and arduous journey for Shajith from Ponnul to Bollywood and from depression to jubilation. Shajith's story is inspirational particularly for handicapped people. His life proves that one's strength of mind and determination can make the impossible possible.
[divider top="yes" anchor="#" style="default" divider_color="#999999″ link_color="#999999″ size="2″ margin="0″]
Awards & nominations
| | | |
| --- | --- | --- |
| 2006 | National Film Award for Omkara | Won |
| 2006 | Filmfare Award for Omkara | Won |
| 2006 | Star Screen Award for Omkara | Nominated |
| 2006 | Zee Cine Awards for Omkara | Nominated |
| 2006 | Bollywood Movie Awards for Omkara | Nominated |
| 2010 | Star Screen Award for Kaminey | Won |
| 2010 | Filmfare Award for Kaminey | Nominated |
| 2010 | Zee Cine Awards for Kaminey | Nominated |
| 2011 | Filmfare Award for Ishqiya | Nominated |
| 2011 | Star Screen Awardfor Ishqiya | Nominated |
| 2012 | Producers Guild Awards, 7 Khoon Maaf | Nominated |
| 2012 | Golden Rooster Awards for Dam999 | Nominated |
| 2013 | IIFA Awards for Barfi! | Won |
| 2013 | Filmfare Award for Barfi! | Nominated |
| 2013 | Star Screen Award for Barfi! | Nominated |
| 2015 | Star Guild Awards for Haider | Won |
| 2015 | IIFA Awards for Haider | Won |
| 2015 | Filmfare Award for Haider | Nominated |
| 2016 | Filmfare Award for Talvar | Won |
| 2016 | Star Screen Award, Talvar & Dum Laga Ke Haisha | Nominated |
| 2017 | Star Screen Award for Rangoon & Dangal | Won |
[divider top="yes" anchor="#" style="default" divider_color="#999999″ link_color="#999999″ size="2″ margin="0″] Shajith Koyeri on
IMDB
[youtube_advanced url="https://www.youtube.com/watch?v=NAXqvlwbjzM" width="300″ height="200″ responsive="no" controls="yes" autohide="alt" autoplay="no" mute="no" loop="no" rel="yes" fs="yes" modestbranding="no" theme="dark" playsinline="no"]