Reminiscence of how REQUIEM came to be
I dreamt that Ma and I were stranded in a rocky barren landscape in the dead of night. It was pitch dark with no humans or illumination in sight. We were completely isolated from the world. Ma was whimpering in pain and crying for help. In my dream I knew that Ma was mortally sick and that I was not going to be able to save her because no vehicle could reach us over that rocky terrain. I awoke at this point and couldn't sleep thereafter. Early in the morning I told my sister Yashodhara about my dream. She was silent for a while and then said reflectively: We have done a lot in Baba's name, but nothing for Ma.
I was suddenly wracked with guilt. [highlight background="#f79126″ color="#ffffff"]All Ma had wanted was an exhibition[/highlight] of her photographs (she was one of India's earliest known women photographers) and despite my best efforts I had not been able to organize a show till then. And I had no idea when that exhibition would become a reality. I needed to do something NOW to regain my lost equilibrium. But I had no idea what that something could be. I prayed for inspiration and it came to me one morning as I was walking on the Bandstand Promenade.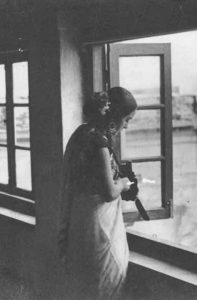 Why not put up a sculpture in her memory on the Promenade? Without wasting a minute I got in touch with our old friend Arup Sarbadhikary who was the Chairman of the Bandra Bandstand Residents Trust (BBRT). It was BBRT that maintained the Promenade and had the final say in all matters connected with it. I explained my idea to Arupda. He was a little cautious in the beginning and said BBRT would consider this after seeing an image of the proposed sculpture. So now I had to find a sculptor. I immediately thought of Viswabharati University established by Nobel laureate Rabindranath Tagore in Shantiniketan. Their Fine Arts Department was still considered to be one of the best in the country and Ma had a great affinity for Shantiniketan. It was a winning combination. I had recently met two talented and successful alumni from Shantiniketan, a husband and wife duo, Samit Das and Mithu Sen. I asked Samit to recommend someone suitable for this project and he promptly gave me the names and numbers of two sculptors he thought would be best suited for this job. After seeing the work of both I opted for Tanmay Banerjee whose work I found to be very gentle and calming, just right for a sculpture dedicated to Ma.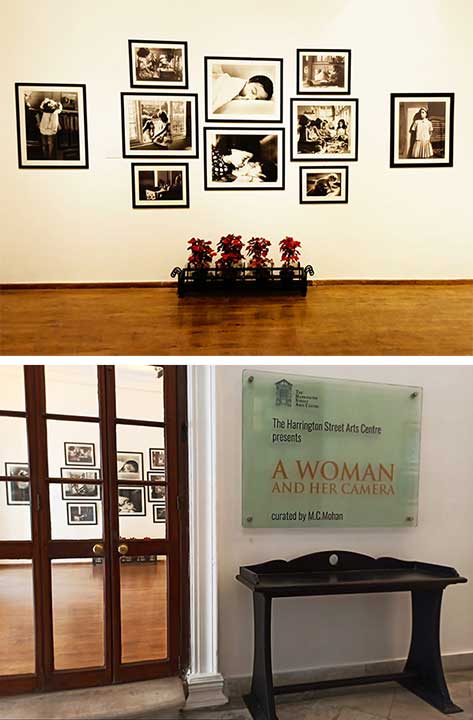 But by now I was getting a little edgy because I was flying to the US on 10th May and had to complete the project before I left. Tanmay had already told me that casting a new sculpture from scratch would take 6 months. So that was out. I had to choose to duplicate an existing sculpture because he had the mould for it. And it would be ready in a month which would fit into our timeline. I showed an image of the proposed sculpture to the BBRT members and they approved instantly. But where to place it on the Promenade for maximum effect. BBRT member Benny came up with the perfect spot. I had to pay for it but there was no way I could have got such a beautiful location for love or money anywhere else. Now to tackle my charming and eccentric architect Alan Abraham to come up with a design for the base. This appeared to be the most difficult task of all. He insisted it shouldn't have a base at all. My instant reaction was to tell him that it would look like part of Michael Jackson's music video of Thriller where zombies are trying to claw their way out of the ground. He was not amused. We finally reached a compromise. He agreed to make it half the height I wanted.
I decided on the auspicious day of Akshay Trittiya April 28th for the unveiling. After much deliberation I invited my cousin Chitra Dasgupta from Delhi to do the honours—She is 82 and the oldest cousin from Ma's side—and my grand niece Rajlakshmi Sengupta to sing for Ma because she sings like an angel. I also asked Hindustani Classical vocalist Shoma Ghosh to sing songs from Banaras because that is where Ma grew up. The ceremony took place at sunset against the backdrop of the sea. It was pure magic. And of course nothing is complete for the Roys unless we feed our guests. Since food is not allowed on the Promenade I requested my dear friends the Gandhys to host the high tea in the garden of Kekee Manzil their spectacular mansion by the sea.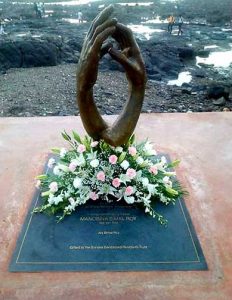 In retrospect I think Ma was orchestrating the whole event because everything fell into place seamlessly to make it near perfect. [highlight background="#f79126″ color="#ffffff"]Ma was a free soul and loved nature.[/highlight] And she loved Bandra too. What could be a more fitting tribute than a piece of sculpture by the sea on the Bandra Promenade? I named the sculpture REQUIEM and my heart swells in gratitude every time I catch sight of it. It will outlive me and my siblings but Ma's name etched on the site, will be seen by future generations and live on forever.
Requiem is a sculpture erected at Bandra on April 28, 2017.
In memory of Late Manobina Roy, a pioneer woman photographer in India,
and the spouse of legendary filmmaker Bimal Roy.

Ms. Manobina Roy's photographs were finally exhibited. Recently.
They are presently the talk of the art world.