Being an effective mass medium, cinema h­­as for long been manipulated for the celebration of national pride and for the recognition of they who demonstrate the highest form of sacrifice and valour. The 'soldier the­me' has been a favorite of quite a few popular Hindi filmmakers from JP Dutta to Anil Sharma. Subhash Ghai's Karma was a success back in its days, and its songs, penned by Anand Bakshi, are fondly hummed even now. The movies of Manoj Kumar were so closely identified with patriotism that he eventually earned himself the sobriquet 'Bharat Kumar.' There is a song too picturized on him—'Bharat ka rehnewaala hoon, bharat ki baat sunaata hoon'. His movies such as Shaheed and Purab Aur Paschim connected well with Indian audiences, and the song Mere desh ki dharti from Upkar is an apt tribute to India.
The 80s and 90s witnessed actors such as Nana Patekar and Sunny Deol donning the role of the saviors of the motherland—Krantiveer, Kohraam, Border, Gadar. Aamir Khan et al roused patriotism in Lagaan: Once Upon a Time in India as a team of village cricketers playing what passes off as a mental war of sorts, a tense match, against their British rulers. In recent times, films in this genre—Rustom, Baby, Naam Shabaana, Satyamev Jayate, Parmaanu, Uri: The Surgical Strike—have ensured actors Akshay Kumar, John Abraham, and Vicky Kaushal a major soar in their popularity.
What is of significance is that unlike in the past, when patriotic Hindi movies were scarce even if successful, since the last half decade or so it has actually become a visible trend—battle movies such as Kesari; anti-terrorism movies such as Batla House; and biopics such as the sports-historical Gold that celebrate national achievements. This trend is still very much strong. On Independence Day this year, Mission Mangal, which celebrates India's journey to Mars, released all over India. And coming up soon is 83, which focuses on India's cricket world cup victory in 1983. Talks are on too for a movie centered on Abhinav Bindra's Olympic feat.
A lot has changed over the years, however, in the way movies in the genre get made. Earlier, there was greater drama and the plots weren't multi-layered. Today, the drama is controlled, and the perspectives are varied. The songs in contemporary movies are no longer as memorable as those of then. The lyrics of present day songs fail to be etched in the memory. And the dialogues are devoid of hyperboles, and on most occasions, are crisp. The canvas has widened and the treatment and tone are varied, relative of the filmmaker's sensibilities. The subject remains mainstream largely but there would be greater acceptance to a movie such as Dil Se in today's times, which probably didn't get its due at the time of its release. On the other hand, while Sunny Deol's hand-pump lifting scene in Gadar was very popular in its time, it is debatable if such a presentation would be widely appreciated today.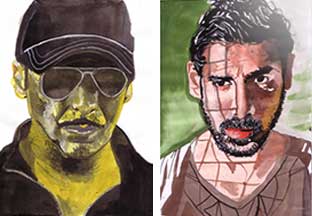 With more avenues to cover costs available and top stars willing to experiment, filmmakers have greater independence in treating the subject. Rang De Basanti used an interesting sub-plot that saw audiences relate to the flawed but eager-to-reform characters led by Aamir Khan. A tragedy triggers the activists within them and the holier-than-thou representation of central characters was avoided. Though predictable, Chak De India kept audiences engaged as Shah Rukh Khan delivered a thoroughly controlled performance of a hockey coach redeeming himself with purposeful resilience. Baby saw an understated performance from Akshay Kumar. The restraint kept the performance real.
Contemporary filmmakers indulging in the nation glorification genre tend to lend importance to research. They consult authorities of the respective subjects; depict realistic setups; and avoid a lavish splash of songs and unreal dramatic sequences. Furthermore, they do not hesitate to address controversial issues employing multiple perspectives. Thus, Haider had a different take on the Kashmir crisis. And Fimistaan and War Chod Naa Yaar attempted to highlight the futility of war, and portrayed the common human challenges across the border. More filmmakers are now displaying the human side of characters. It is no longer a binary setup where one is for or against the national interest. The intent is to portray the challenges of conflict that aren't resolved. Raazi and Romeo Akbar Walter both depicted the lives of a spy, but while the former was subtler, the latter did not withhold the drama. The template is just not the same anymore.
[divider size="1″ margin="0″]
The artworks are by the author himself. He has done well over 350 portraits of film stars from the early to the present eras.