Have you ever had the opportunity to observe an actor observing himself? Naseeruddin Shah: The Angel of Chaos
Early Noughties, Mumbai.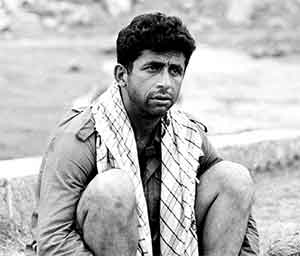 In a sultry Mumbai studio, poet extraordinaire Gulzar's face flickers on a mounted screen. He's paying a tribute to Naseeruddin Shah, today's guest on the sets of Jeena Isi ka Naam Hai, one of Zee TV's most popular shows. Gulzar's cheerful visage is replaced by a wizened face of a man who lived almost two centuries ago. The man weeps copiously as Jagjit Singh's velvety voice wafts in:
Zulmat kade mein mere
Shab-e-gham ka josh hai
Ik shamma hai daleel-e-sahar
So khamosh hai…
Daagh-e-firaq-e-sohbat-e-shab ki jali hui
Ik shamma reh gayee hai so woh bhi khamosh hai
Naseer looks at his two hundred year-old face and his eyes brim with a salty liquid, threatening to spill out. He stifles it.
1960s, St. Anselm's School, Ajmer
The boy put together a group to enact scenes from William Shakespeare's revered play Merchant of Venice. Even at that age, he is tempted to play Shylock, one of world literature's most scorned villains. But in his mind he was exactly sure how he wanted to play it. He wanted to emulate his guru, the master that he had learned the most from. Day after day, the boy had observed the great Geoffrey Kendal prance about like a primal beast on stage, reproducing one Shakespearean character after another.
a[highlight background="#f79126″ color="#ffffff"]The shy boy who found it incredibly difficult to talk to people, went up on stage with dozens of heads staring at him, judging him. But there were bright lights on him and he couldn't see anything. Till he could only see the abyss. He stared at the black void in front of him and started speaking. That one night was to transform that boy completely.[/highlight]
1983, a seedy restaurant, Mumbai's Underbelly.
Inspector Anant Velankar had had his fill for the evening. This was the only place he could afford to eat regularly. He'd freshened up and folding his wet kerchief into a neat bundle when he heard a clamour. The manager was engaged in a scuffle with a man who looked like a cross between a poet and a ruffian. Velankar intervened and was told this man ate and drank to his heart's content but was now refusing to pay as he had no money. Anant pays for him. The trouble maker introduces himself, in flawless English, "Lobo. Inspector Mike Lobo. At present under suspension for being under the influence of alcohol while on duty. Under ssuspension ssince '79." He says this with his head held high, and fire in his eyes. But then it is extinguished immediately when he switches to "..well officer I happen to have no money on my person. Can you lend me some? Thank you..thank you very much..it will be returned, whenever you choose to meet me next time..you care to join me for a drink, officer? Somewhere else?..I thought so. God bless you."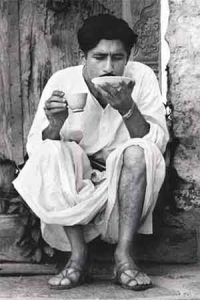 A few days later. Anant and his colleagues are exiting a bar, a part of Anant's earnest struggles to fit in, to comply. As they board a taxi, Mike Lobo emerges out of the darkness and hammers at the glass window, "Excuse me gentlemen, excuse me gentlemen! One minute please..can you lend me some money please? My wife died just this evening, and I don't even have the money to bury her! Please help a good cause! Anything counts, fifty rupees or even five..please help a good cause gentlemen.." He leers at the notes that Anant counts and mutters again, "My wife died". Anant's colleague says as Mike leaves hurriedly after grabbing the money and thanking them, "Kya thha, kya ho gaya. Chup chaap naukri karta rehta toh aaj kahan se kahan hota."
February 2014, a Digital Advertising Agency, Santacruz
He was just offered a book to write about Naseeruddin Shah. It was the beginning of a story he can still barely comprehend. He had bagged the contract and somehow with considerable effort, managed to get the star's phone number as well.
After much deliberation, without hoping for replies, an SMS went out. Exactly 90 minutes later, his response came in.
Here's what transpired then –
N: You will have to write it without my help
[Pause, quick chat with colleagues]
A: Would you be willing to read it once it's done?
N: Maybe
The wannabe author was crestfallen. The battle hadn't yet begun and there was blood splattered all over the floor.
Like friends walking in uninvited, an idea peeked in and lodged itself firmly inside his cranium. It made sense.
A: Sir, to give you a little more perspective & to share an article I wrote about you, can I have your email id?
This time it took an hour, but the email address was received.
This was February 6, 2014. Just about a year earlier, I (yes, that switch to first person was intentional and intended for dramatic effect) had written an impassioned piece on Naseer and his work, for a film magazine. I worked on it for days, researching as extensively as possible. The magazine, however, chose to modify the piece in a way that it looked different and read different. I decided to show the article to him – not the magazine article. The one I had written. I emailed it to him.
Next morning, Naseeruddin Shah wrote back. To the man's immeasurable largesse, he even explained himself. I quote –
"Reason for my curt responses is because a few people have approached me earlier also, but all expect to be spoon fed the information. I like your article….I have completed my book it will be out by x mas but we can meet."
Before I could gather my bearings, there was a text message as well – "Liked your article. Have emailed a reply."
Utterly needless to say, I was over the moon. In two days time I'd be standing at the door of his apartment, sweating profusely. He answered the door. Shit.
Late 1970s, London

Richard Attenborough had been planning a film on Gandhi since 1962, when he conceived the project for the first time. Nehru reportedly told him, "Make a film. Don't deify him. That's all we do in India. He's too great a man to be deified. But make a film about him. He was a man, not a god or a saint."
The project kept getting delayed, and Attenborough made three films in the mean time: Seance on a Wet Afternoon (1964), Oh! What a Lovely War (1969), and Young Winston (1972). As he researched on his material for Gandhi, he kept looking for an actor who could pull off the title role with conviction.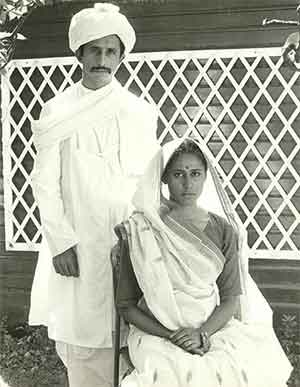 Naseeruddin Shah was considered for the role of Gandhi. He was given a ticket to London, where the audition was supposed to happen. Shah said in an interview that he was confident that he would bag the role. Where else will they get a better actor who suits the part? In fact, the Indian media flashed it on the headlines that Naseer had actually got the role. This further reinforced Naseer's confidence. This was the first time he had been to London, and he had a blast. He was made to stay in a hotel in Oxford street and travel in a Rolls Royce, and was given some money to spend. When Naseer was taken to Shepperton Studios for the test, that's when he met Ben Kingsley for the first time. As soon as he set his eyes on Ben, Naseer knew he was the right man for the part. A test was conducted, but by this time Naseer was convinced that Ben looked more like Gandhi than himself, and he was indeed more suited to portray the role. He also watched Ben's audition, which further confirmed his thoughts. Naseer admitted later that he didn't think he could do a better job than Ben Kingsley at that time.
Between David Copperfield and Dara Singh
The first chapter of Naseer's memoir And then One Day is called 'All that David Copperfield kind of crap'. It bothered him no end that some people didn't get the Salinger reference. He would deprecate Sholay, and in the same breath sing paeans in praise of Dara Singh, his favourite star. He hates masala films with a vengeance, but is a fan of Shammi Kapoor and has immense respect for Farah Khan. [highlight background="#f79126″ color="#ffffff"]He'd do era-defining work and then feature in the crappiest of films, admitting without any qualms that he did it for the money, or to repay a favour he owed.[/highlight] He reads my book which has chapters on Kaagaz Ke Phool, Jaane Bhi Do Yaaro and Katha but reacts by saying: "I absolutely LOVED the articles on Joginder and the Ramsays! I love the B-movies and I've seen Bindiya aur Bandook, Teen Ikkay and Pandit aur Pathan..I've seen Ramsay's Rustom Sohrab several times. It's got great songs." He can also go on and on about his love for Spencer Tracy. Both him and Cinema has given each other a lot. But the Stage remains his eternal lover.
Naseer turned 70 today. For over 45 years, he has been deftly shapeshifting into one role after another, allowing that boy from St. Anselm's a window to express himself. And you start welling up, as you observe him observing himself playing Mirza Ghalib, staring at the abyss, trying to speak.
[divider top="yes" anchor="#" style="default" divider_color="#999999″ link_color="#999999″ size="2″ margin="0″]
Naseeruddin Shah on IMDB
[youtube_advanced url="https://youtu.be/YIarLexsnSw?t=1812″ width="300″ height="200″ responsive="no" controls="yes" autohide="alt" autoplay="no" mute="no" loop="no" rel="yes" fs="yes" modestbranding="no" theme="dark" playsinline="no"]