It has been almost half a century since Meena Kumari (1933- 1972) passed away, and yet her evocative silver screen images come back again and again to stir our emotions. In death, as in life, she remains the creator of many stories, exactly resembling Princess Scheherazade of the Arabian Nights. The Arabian Princess wove endless stories within stories, and moved from one story to another without finishing the previous one, while Meena Kumari's aura too, whether onscreen or off, inspires numberless stories, but with an unfinished undertone.
Much has been said about Meena Kumari's expressive eyes, yet [highlight background="#f79126″ color="#ffffff"]her expressions and her body language are always subtle and understated, leaving us wanting to know more and to hear more. Her beauty adorned with gossamer veils and downcast eyes tell us to look deep into her inner being, and deeper still.[/highlight]
Meena Kumari was one who closely experienced life's fragility and its many deceptions, and she trained herself to live life in moments and not let go of any opportunity that could make her happy. Her life certainly cannot be defined by stereotypical terms such as 'tragedy queen' or 'queen of sorrows.' She is not mythical Hecate, the melancholy goddess, constantly shedding tears, buried in sighs and laments. Instead, her indecisiveness and volatility compelled her to continuously search for a new meaning in life, forever going past whatever she had in life thus far.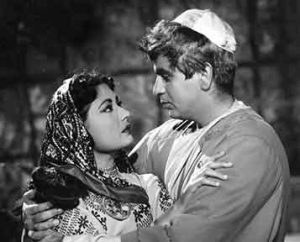 Coincidentally, all her iconic roles present life more as a journey than an arrival, a yearning more than a fulfillment. In Piya Eiso Jiya Mein, she is a woman completely lost under a spell. In Na Jao Saiyan, she is the one who tries the utmost to come out of hopelessness. In Mausam Hai Ashiqana, she offers love and protection, and simultaneously seeks the same. Certainly, the lyrics, music and every other thing worked in harmony with Meena Kumari's way of carrying herself in different roles, to create an incredible upshot.
Her screen images radiate an [highlight background="#f79126″ color="#ffffff"]arresting combination of softness and vulnerability, but with all her vulnerability, she had the strength and audacity to break her free spirit from everything else and let it move on its free will.[/highlight]
Her life, abruptly cut short at the age of thirty-nine, makes her a symbol of eternal longing, like Keats' immortal Grecian Urn. Whatever she could not deliver through her quivering lips and deep pitched voice, she rendered into her nazms:
nami si aankh mein aur hont bhi bhige hue se hain

ye bhiga pan hi dekho muskurahat hoti jati hai
(Eyes were moist, and lips too /and see, this moisture is slowly turning into smiles)
Is not this Meena Kumari in her truest self?
[divider top="yes" anchor="#" style="default" divider_color="#999999″ link_color="#999999″ size="2″ margin="0″]
Filmfare Best Actress Awards — Meena Kumari
[divider top="yes" anchor="#" style="default" divider_color="#999999″ link_color="#999999″ size="2″ margin="0″]
Meena Kumari was a great grand niece of Rabindranath Tagore. She made her film debut at the age of 4 years, and rose to be one of the most famous Hindi actresses of her time. She married and later separated from director Kamal Amrohi. Away from the glare of the public, she wrote Urdu poetry under the pseudonym, Naaz (Melwani, Lavina. Meena Kumari the Urudu Poetess You Didn't Know. 2018)
[youtube_advanced url="https://www.youtube.com/watch?v=TCDbIT13MRY" width="300″ height="200″ responsive="no" controls="yes" autohide="alt" autoplay="no" mute="no" loop="no" rel="yes" fs="yes" modestbranding="no" theme="dark" playsinline="no"]