Mahishasur Marddini
"So many years past being raped, I tell myself what happened is 'in the past.' This is only partly true. In too many ways, the past is still with me. The past is written on my body. I carry it every single day. The past sometimes feels like it might kill me. It is a very heavy burden."
― Roxane Gay, 'Hunger'
"Sometimes, watching a movie is a bit like being raped."
― Luis Buñuel, 'My Last Sigh'
Rape is the most heinous form of bestiality that humankind has been subjecting its womankind to since eons. It is also the fourth most common sexual crime committed against women. Rape, in myriad forms, under several situations―war, civil strife, domestic, social, public places―is perpetuated with impunity, despite stringent laws being enacted the world over. It is the most repugnant form of degenerate weapons used by man to subjugate and stifle any forms of dissent and demonstration of empowerment by women, and is akin to clipping the wings of a bird and its confinement in a gilded cage. And its perpetrators have no ethical, moral or human mores.
While rape as a social malaise has never been hotly debated and dissected in public save the occasional indulgence of tokenism, it is especially after the Nirbhaya incident that rape has come to the public discourse in civil society, striking at the civil conscience of the nation. Post Nirbhaya, legislations have been enacted and strengthened, but not a day goes by when a rape is not reported. To rephrase Shakespeare's King Lear, using the voice of a woman, "As play toys to wanton boys, are we to the men; they rape us for their sport."
In addition to rape in its physical abuse form, women are subjected to, and face, other ordeals in their race for survival in life. Victims are inflicted too through non-physical thoughts and actions against them when they seek their ilk's help to fight it. It is this twin form of rape of women that Ranjan Ghosh brings to the fore in his latest visitation, Mahishasur Marddini. At the Bangalore International Film Festival, where the film had its world premiere, Ghosh declared, "My film is conceived as a letter of apology to women for all the wrongs done to her. It is unapologetically feminist and unapologetically political.
"Ever since a woman is conceived in the womb—from that stage till the point of time when she takes on the role of a sister, a daughter, a friend or a girlfriend or a mother or a wife—at various stages, she goes through torture or discrimination and this insult is heaped upon her not only by men but also by women. There is racism and class differences. I hold a mirror to all of us. The idea being to ensure each of us feel bruised and ashamed of our thoughts and actions. That precisely is the audience's takeaway from the film. To reflect on what we do to our daughters, sisters, girlfriends, wives, mothers, day in and day out."
However, while one cannot dispute Ghosh's idea of engagement with the festering social issue and must appreciate his laudable initiative to do so, the exploration and device he has taken recourse to woefully falls way short of an engaging and enterprising cinema. Cobbling up a panoply of players drawn from different strata of society—students, politicians, activists, empowered go-getter women—to drive his homily, Ghosh, by taking recourse to a theatrical format as his narrative device has failed to make Mahishasur Marddini a much more hard hitting and haunting one.
The strategy of Ghosh to emphasize on the theatrical form rather than on cinema's own narrative structure and needs weighs down the viewer from being effectively engaged in the 'theatre of drama.' It is somewhat Brechtian in nature, and gets to be a bit off-putting. By boxing in his film in the rather claustrophobic setting of a single stage, Ghosh has provided no freedom or space for his players and they have been denied the luxury of enacting their roles with much more felicity and facileness.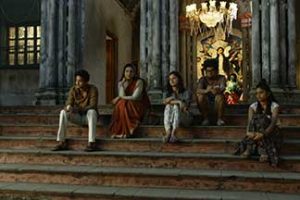 As the characters enter and exit the 'theatre of performance' in the dark, desolate, old mansion, with the metaphorically-erected figurine of Goddess Durga (Mahishasur Marddini) prepared for the following day's festivity looming large over them, their performances come across as robotic. Each of the characters, including the lead actress Rituparna Sengupta, simply mouths a prepared text, in turns, and go about their assigned roles in a rote fashion. Saswata Chatterjee as a werewolf in a politician's garb is loud. The overall acting is wooden.
That said, in the eponymously-titled Mahishasur Marddini, Ghosh draws upon the horrific Nirbhaya incident that had roused the collective conscience of the nation some years ago, for the kernel of this searing, social treatise. He takes upon this sliver of a tragic incident, and supplements it with other similar tragic tales, to focus the spotlight on the duplicitousness nature of society over such victims, the female gender in particular, who bear the brunt of this heinous crime.
The film comes to us at a time when we read daily, almost in a ritualistic and diurnal manner, of the heinous crimes being committed on women; of the culprits who roam about virtually scot free, despite their despicable acts, while the law takes its own time to render justice to the victims /survivors; and of the less fortunate victims who pay with their lives following the act.
Consciously set in a single location, the chorus of characters introspect and dissect the heart-rending incident whilst also looking back on their own past deeds vis-à-vis the female gender. Each of them—now acting as moral guardians of victims— is ridden by a guilty past of maltreating the respective women in their own lives; women whom they had shunned, spurned and shied away from.
Society may worship the feminine form as the venerated Durga Ma extolling her powers to rid evil from our society but when it comes to taking a similar decisive step in reality the truth is that a majority would much rather step back selfishly and sheepishly hide behind age-old prejudices and remain in their comfort zone. Ghosh bitingly portrays the falsehood of male exaltedness and puts to shame such behaviour toward women. In Mahishasur Marddini, the fiery and revered Goddess herself is allegorically a silent and mute witness to the goings on, thus, subconsciously slaying the hidden demons in the recess of the diaspora's psyche that is yet to rise about the selfish and self-centred stoicism.
Rose McGowan in her book 'Brave' says that "The truth of it is, the shame was not mine, and for all victims in similar situations, it is not ours. The shame is reserved for every creep who has ever touched us inappropriately. The shame is on the abuser, not the victim, not the survivor. It is tragic that so many of us have to survive this kind of crap, and I'm so sorry if it has happened to you." Her quote succinctly epitomises what Ghosh has sought to portray in this indictment of a society that still suffers predatory men and women.
Despite its inherent fault lines, Mahishasur Marddini still is a creditable creative film that draws audiences on a reflective sojourn in their subconscious failings and holds out a mirror to society's 'male'ficient mindset.