Kamal Haasan
"The fact that I've lived this long is not really an achievement, Time passes; we age… it's natural. This is why it annoys me when a person watches a movie and tell me that it was 'time pass'. Would time not have passed if he hadn't watched the film?"
-Kamal Haasan
All of 65 and fit as a fiddle. 232 films strong with that eternal spring in his steps. Three marriages and two darling and dainty daughters in Akshara and Shruthi — that's Paarthale Paravasam Kamal Haasan for you. Versatile, method actor. Dancer. Singer. Aesthete scripter-director. Tamil Cinema's iconic thespian. Shaped and striven by an innate philosophy to "lust and hunger for the audience," and "to do my duty of being better than my predecessor and to see that my successor is better than me."
Hailed by Hollywood's Barrie M Osburne for his intense knowledge of literature, history and films as "encyclopaedic" and Ang Lee for his brilliance and knowledge of films, Indian Cinema's, more precisely, Tamil Cinema's "Mr Perfectionist's" has a simple modus operandi towards incessant success. He says, "I would like to keep updating myself. That is the only way to make life interesting. And because I am a performer, I would like to do it deliberately and with purpose."
It is no wonder then that this very sense of purpose and life's mission saw Kamal Haasan draw blood in the very first film he forayed into when a physician friend of his mother visited AV Meiyappan (AVM) to treat his wife, with a young child tagging along. That innocuous stripling and Destiny's Child would catch the keen and perceptive eye of AVM's son M Saravanan to be recommended for their production Kalathur Kannamma, in which his character, Selvam, [highlight background="#f79126″ color="#ffffff"]a cherubic four-year-old waif, gloriously crooned the haunting hymnal Ammavum Neeye Appavum Neeye without betraying  the slightest trace of camera consciousness.[/highlight]
That his debut performance as a child artiste should have fetched him the coveted President's Gold Medal was a presage to what followed this multifaceted, multitalented, mercurial man of the medium, admiringly and effusively proclaimed Ava (n) l Appadithan for his artistry and aesthetics. Kamal Haasan the prodigious talent would go on to rule the movie amphitheatre for 6 decades.
Born Parthasarathy, into a Tamil Iyengar family, Kamal Haasan, as he is better known by his screen name, is the youngest of four siblings. His sister Mrinalini is a classical danseuse, and his brother Charuhasan and niece Suhasini are National Film Award winning actors. He grew up in a home that was deeply steeped in performance arts; one very much like an open-air auditorium, where renowned singers of the time would enthral audiences.
Upon his father's encouragement, he joined the repertory company (TKS Nataka Sabha) headed by T K Shanmugam even as he continued his studies at Hindu Higher Secondary School in Triplicane. The quality time with the theatre company shaping Kamal Haasan's craft and interest in makeup.
Straddling the Kollywood cinema coliseum like a colossus, Kamal Haasan is known for his virtuosity. Among his eclectic repertoire of films as a director-actor are Raja Paarvai, Vikram, Apoorva Sagodhargal, Thevan Magan, Mahanadi, Kuruthipunal, Hey Ram, Anbe Sivam, Dasavatharam, and Virumandi, each of which explore different thematic concerns and bring to fore his wide range of acting skills, depth and intensity, and the understated manner in which he plays his parts with aplomb. He is not one who can easily be categorised in any one manner of emoting for he brings into play a variegated and nuanced rendering.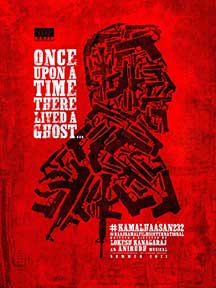 Often frowned upon for his over self-indulgence with aesthetics of film making and acting, and an unabashed pursuer of commercial dynamics, despite clinging on to his ideal idea of cinema, Kamal Haasan has never been wanting when it came to meld commerce with craft for the greater good of cinema. He is a radical experimenter always willing to take that leap of faith to sharpen audiences' cinematic sensibilities with subtleness and complexity rather than relying on dead pot commercial cauldrons.
Kamal Haasan continues to set the bar for craftsmanship in writing, direction and acting through his constant exploration of structure and form. He educates and prepares his audiences to become better informed and to appreciate, to seek, and to solicit quality cinema from film makers. Ever exploring newer avenues of narratives, he is on a constant singular mission of re-imaging the approach to cinema beyond the mundane function of entertainment and toward a more thinking craft.