Geeta Dutt
'Tis not through envy of thy happy lot,
But being too happy in thy happiness,—
That thou, light-winged Dryad of the trees
In some melodious plot
Of beechen green, and shadows numberless,
Singest of summer in full-throated ease.
– John Keats, Ode to a Nightingale
In Geeta Dutt's warbling voice, subdued smile and shy glances we find the nymph and the muse being fused together and nothing comes as close to her life and art as does [highlight background="#f79126″ color="#ffffff"]the immortal bird of Keats' famous ode. [/highlight]Hers is a tale of extreme experiences that life can offer to an individual. While destiny endowed her with the rarest ability to conjure up a gush of fresh air and a soothing shower to a parched land and a thirsty clime, the same destiny took away all her powers and left her feeble and lonely, as if administered by some unalterable nemesis. Geeta Dutt's life was tarnished as much by love and deceit as by despair and longing. But her timeless voice makes her the immortal Dryad of the evergreen bower in which the short-lived summer is celebrated with 'sunburnt mirth'.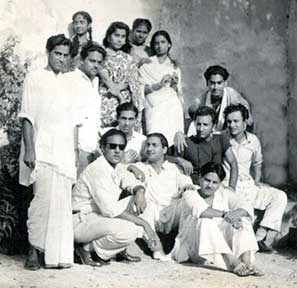 Geeta Dutt's oeuvre of playback singing remains an inseparable part of the golden days of Hindi cinema and from sad musings to playful jingling, everywhere she was at the best of her full-throated ease. Coincidentally, it so happened that her songs were neither purely romantic, nor tragic, nor seductive. Her forte lies in those songs that were half jesting and half sceptic, with a detached, quizzical vision of love and life; of an accultured, neo-urbanized neo-hybridized society imbibing the cultural milieu of the early phase of a globalized culture. For someone with a very conventional upbringing, being born and having spent her childhood in rural East Bengal, it is a wonder how she instilled such a lively spirit to that ethos as far back as the early 1950s. How Geeta Dutt succeeded in finely attuning her voice to the beats and rhythm of those songs will always remain a mystery. In 'Tadbir se bigdi huyee', the stop and go movement of e he he he, he he/ e he he, he he throws us into a thrill of anticipation, and being true to itself, the song does make us tap, clap, sway and move all the way.
She pitched her feet firmly in that arena, usually discreetly avoided by mainstream singers, and [highlight background="#f79126″ color="#ffffff"]created a genre all by herself and trod a solitary path with nobody to look up to and none to walk behind. It wouldn't be wrong to say that this genre began and ended with Geeta Dutt.[/highlight] All attempts to revive her joie de vivre merely ended with sloppy songs spilling all over.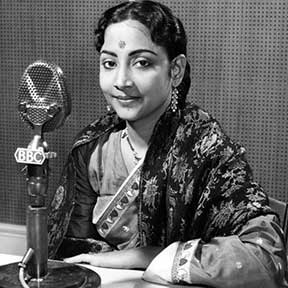 Even in her plaintive numbers, Geeta Dutt portrays that stoic indifference and is not swamped by sorrows. In 'Waqt ne kiya', she is overladen with sighs, but she negotiates with them, without veering off on the verge of sentiment. And when she is not detached or in a mood to negotiate, she is the most spontaneous. 'Mujhe jaa na kaho, meri jaan' and 'Na jo saiya' are songs of starkly different moods—her voice is choked with laughter and ecstasy in one, and trails off with desperation in the other. This combination of spontaneity, detachment, playful coyness and joyful quirkiness makes Geeta Dutt the artiste extraordinaire, and, arguably, one of the most inimitable singers of the erstwhile Bombay Talkies.
In her enduring songs, [highlight background="#f79126″ color="#ffffff"]Geeta Dutt is no less than the "hammered gold and gold enamelling" nightingale of W.B. Yeats's celebrated poem 'Sailing to Byzantium' seated  on a golden bough and singing of "what is past or passing, or to come".[/highlight] Geeta Dutt has been long gone, engulfed by the perplexities of life. But her songs have become ever more resonating. In them, we inhale the whiff of the first rain in the days of cultural draught.