Dev Anand was Dorian Gray, Peter Pan and matinee idol all rolled into one. There may only be a handful of actors or filmmakers anywhere in the world whose career spanned 7 decades. Dev Saab, as he is still remembered, was one of the most pos­itive persons I have ever met. His effervescent charm, his enthusiasm and his optimism were contagious. I met him when I was in college in Delhi in 1969 and at the end of that fortuitous meeting I had made up my mind that film was the career option for me. Dev Saab not only facilitated my entry but became a mentor. I was merely one of many people who owe their career to him.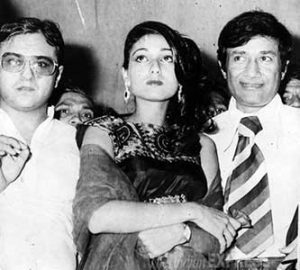 Dev Anand came to Mumbai in 1944 with a graduate degree, a bagful of dreams and a charming smile. His first job was at the office of the Government's censor department, where he read letters from soldiers to their families back home. However, he was clear that his future lay on the silver screen. His older brother, meanwhile, was nursing his own dreams, even as he worked elsewhere, at BBC and Doon School, before landing in Mumbai to pursue his own celluloid dreams. Chetan the more cerebral of the two had links with the left cultural movement and both brothers briefly got involved with the Indian People's Theatre Association (IPTA). Dev Anand however kept studio hopping until he attracted the eye of DN Pai, one of the founders of the legendary Prabhat Studio in Pune. Dev Anand was immediately signed as an actor and made his debut in PL Santoshi's Hum Ek Hain (1946), a film in which director Guru Dutt worked as an assistant. The duo would go on to forge an enduring friendship. After a few hiccups, Dev Anand, starring opposite Kamini Kaushal, got his first hit via Ashok Kumar in Bombay Talkies' Ziddi (1948), written by Ismat Chugtai and directed by Shaeed Latif. Incidentally this film marked the debut of Kishore Kumar as a singer under composer Khemchand Prakash. The film turned out to be a hit. Dev Anand the star had arrived.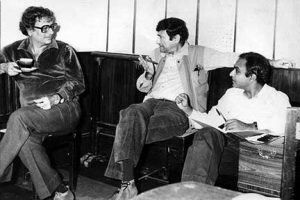 In 1949, he set up his production house, Navketan, with his elder brother, Chetan (Dev Anand would leave in a few years and his place would be taken up by his younger brother, Vijay). Chetan had by then made the richly-acclaimed film Neecha Nagar, which had won the Grand Prix at the first Cannes Film Festival in 1946, sharing the prize with David Lean's Brief Encounter. Navketan, fueled by the money Dev Anand the actor earned working outside, got its first hit in 1950 with Guru Dutt's debut film Baazi (1951). Navketan by then, along with RK Films, was to become an important institution in modern Indian Cinema; both lasted for decades. Navketan would become a nursery of talent. Guru Dutt, SD Burman, Ustad Ali Akbar Khan, Raj Khosla, Vijay Anand, Sahir Ludhianvi, Jaidev, Johnny Walker, Biren Naug, Yash Johar, and later Neeraj, Shatrughan Sinha, Zeenat Aman, Zahida, Tina Munim, Jackie Shroff, Richa Sharma, Tabu and many others would spring from this creative garden. Navketan has made over 40 films, of which Baazi, Taxi Driver, Kala Pani, Kala Bazar, Hum Dono, Guide, Tere Ghar Ke Samne, Prem Pujari, Hare Rama Hare Krishna and Des Pardes are considered landmark films. Over 100 well-known filmmakers, writers, and technicians were nurtured at Navketan.
Dev Anand remained active till his last breath. His later films may not have met with success but his zest for life, his passion for cinema and his keen eye to hunt talent remained alive and kicking.  Among all his contemporaries his films still remain on the rerun circuit on TV and the internet. Songs from Navketan Films are still hummed by five generations. In my long association with him I have seen him at music sessions with composers like SD Burman, RD Burman, Laxmikant Pyarelal, Rajesh Roshan, Bappi Lahiri and others. He also had the pulse to pick the right melody and poetry. He followed global trends and while abroad would visit all kinds of concerts, stage performances and museums. [highlight background="#f79126″ color="#ffffff"]Dev Anand was also that rare star in India who replied to letters and answered phone calls. He loved eating but was largely a frugal eater. However, contrary to popular perception, he did not follow a strict diet or exercise regime. He just took care of his body and mind.[/highlight] He had a special affinity for mountains and never missed an opportunity to shoot at different mountain locations in India and abroad.
Not many people are aware that Dev Anand was a truly renaissance man. From his early days he befriended writers like Agyei, Pearl S Buck, Raja Rao, Manohar Malgaonkar, KA Abbas, Somerset Maugham, Irving Stone, Ismat Chugtai, Kamleshwar, and Kamala Das. Kailash Vajpayee once talked about his meetings with Manto. In the early days of Navketan, classical musicians like Ustad Ali Akbar Khan, Pandit Ravi Shankar, Pannalal Ghosh, Samta Prasad, Alla Rakha, and Halim Jaffer Khan played in his songs. He had hosted eminent directors like Frank Capra and Michelangelo Antonioni, and actors like Shirley MacLaine and Martin Sheen. He had visited the Cannes, Berlin and Moscow film festivals. He was an avid reader, and had a large collection of books on different subjects. He was also a patron of the arts. He was fond of travelling and his films often featured unusual locations both at home and abroad.
Dev Anand the actor also stands out in several films especially early in his career. In fact, [highlight background="#f79126″ color="#ffffff"]Dev Anand was the first major star and producer to make noir cinema in India.[/highlight] Films like Baazi, Taxi Driver, House No 44, and Kala Bazar are some of them. His performances in Ferryman, Nao Do Gyarah, Baarish, Paying Guest, Asli Naqli, Hum Dono, Tere Ghar Ke Samne and of course Guide stand out. He always encouraged young talent. Countless artistes, technicians, writers and directors from Navketan went on to make hugely successful careers.
Unfortunately, towards the last part of his career, he became self-indulgent and his choice of stories was questionable. My sense is that if he had directed films on others' screenplays, he would have made far better films. His command over the medium and his craft was good. Only his writing was mediocre.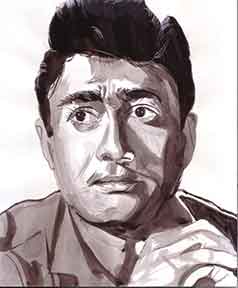 A lot of us who interacted with him will always remember him with warmth. From kings and prime ministers—He had interacted with almost all the Indian leaders as well as several foreign heads of states—to the next-door neighbors, everyone has only good things to say about Dev Saab. He never spoke ill of any of his colleagues—He spoke fondly of Guru Dutt, Raj Kapoor, Nargis, Dilip Kumar, Madhubala, Nutan and all his costars—or others. His cinema will live on for generations. He was a rare gentleman who was made of the stuff that dreams are made.