The universal language of the seventh art, cinema, unites us all together as one human race. Cinema has brought us closer. Sitting here in Guwahati, watching films, we can feel the agonies and ecstasies of the people by the Caribbean. We can feel the depth of the Mediterranean from the banks of the Brahmaputra.
Set with the onerous task on my head, a few years ago, of steering the first edition of the Guwahati International Film Festival (GIFF), I experienced the shivering of a little bird just about to commence the very first flight of its life. Today, though, GIFF is well on track on its mission of assimilating culture and connecting hearts beyond boundaries. The moto of this Festival is basudhaivo kutumbakam, that is, the world is a family. I hope and would like to believe, therefore, that the films curated with much care will help in widening our horizons, and will lend a new perspective to our vision, as we explore ourselves and the world around us.
Those who are acquainted with the scenario of present day cinema with all its nuances right from pre-production to projection would immediately agree that the challenges are rapidly on the rise. For indie filmmakers, many of these challenges are colossal enough to sow fear and doubt in their minds and make them consider the idea of altogether discarding their dreams. Purely to inspire and encourage all, film festivals arrange interaction sessions, open forums, and panel discussions; and conduct film seminars, workshops, and master classes. At the Chalachitram National Film Festival , where I was a member of the jury in one of the categories this time, there are awards for the best debut film and the best screenplay too. By screening the amateur films of young debutants, and by encouraging them to to write, we prepare them for the future.
The purpose of all good film festivals is to create a platform where we not only strengthen our culture but also simultaneously groom our audience a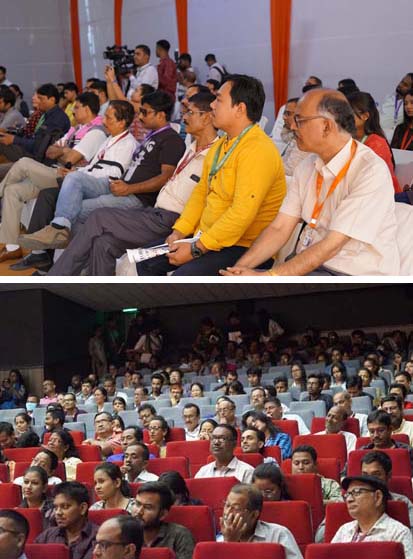 s future custodians of our grand heritage. I have the satisfaction of being a part of a campaign that recently planted the seed of an international film festival in an important yet long-neglected region that is presently once again contributing much to the universe of cinema. The future of heritage rests with how well our youths have been exposed to and educated on it; thus, it is immensely pleasurable to witness a sizeable increase in the number of student delegates at film festivals all over the country. It is reassuring to see the resurgence of an appreciation of good cinema by the passionate new generation.
"Alone I can say, together we can talk. Alone I can smile, together we can laugh. Alone I can enjoy, together we can celebrate. That is the beauty of harmony." And of cinema. Thus, together, let us rejoice in the greatness of cinema. Together, let the goodness of cinema liberate us from the isolating bondage of human follies.